FDA Accelerated Approval: How will we get drugs that work?
NBCC advocates have been excited about the promise of immunotherapy for breast cancer. We are eagerly awaiting immune therapy that will save lives. We are not there yet. But the system may be changing to make it more likely we can reach that goal if the science is there. 
The FDA will hold a 3-day public meeting with the Oncologic Drugs Advisory Committee (ODAC) on April 27-29 to review the accelerated approval of three immune checkpoint inhibitors in six cancer indications, including triple-negative breast cancer (TNBC).[i] 
The purpose of accelerated approval is to get drugs to patients with serious conditions earlier than might otherwise occur, where there is an unmet need. What is the unmet need in breast cancer? We don't know how to cure metastatic disease for one. You would assume then that accelerated approval is warranted if there is clinical trial evidence that a therapy at least extends metastatic breast cancer patients' overall survival or significantly improves their quality of life. Yet, we have many approved drugs in breast cancer that don't do either. We would very much want to get one that does have these benefits to patients as soon as possible.   
Accelerated approval allows for faster approval because it is based on the effects of a treatment on a surrogate endpoint, like progression-free survival. A surrogate endpoint is a marker, such as a laboratory or radiographic measurement, that is thought to predict clinical benefit, such as overall survival, but is not itself a measure of that clinical benefit. Once a drug receives accelerated approval, the company must conduct what is known as a confirmatory trial to show that the surrogate (e.g., progression-free survival) did in fact predict a clinical benefit (overall survival). If the confirmatory trial indicates otherwise, the drug approval is supposed to be withdrawn. But that is not how the FDA accelerated approval process has worked. 
A 2019 analysis[ii] of all cancer drug indications receiving accelerated approval between 1992 and May 2017 found that only 19 of 93 (~20%) demonstrated improvements in overall survival in confirmatory trials. In ~40%, confirmatory data were only available for surrogate endpoints. And in other cases, the primary (clinically meaningful) endpoints were not met. Was approval expeditiously withdrawn? No. Only 5 of the 93 accelerated approval drugs have since been withdrawn from the market though only 19 demonstrated clinical benefits.  
NBCC has long spoken out against accelerated approval of breast cancer drugs for precisely the reasons made evident by this analysis. Despite the process bringing many drugs to market more quickly, there has generally been no evidence that these drugs improve how well or how long people with advanced/metastatic breast cancer live when taking them. This concern now extends to immune therapy.  
The first checkpoint inhibitor (atezolizumab) in advanced/metastatic TNBC received accelerated approval in early 2019[iii] based on the results of the Impassion 130 trial[iv],[v] which demonstrated a 2.6-month improvement in a surrogate endpoint, progression-free survival, and no significant improvement in overall survival. The approval then required a confirmatory trial to demonstrate clinically meaningful benefit.  
In August 2020, the results from the confirmatory trial (Impassion 131[vi]) were released. Not only did that trial fail to replicate the modest improvement in progression-free survival from the first trial, disturbingly, it showed a negative trend in overall survival for patients on the treatment arm compared to the control arm. See NBCC's August statement explaining our position on this issue.  
FDA's decision to review accelerated approval and hold a public hearing may be a step in the right direction. We expect that these decisions signal a change in the level of evidence required before bringing drugs of considerable cost and limited to no clinical benefit to market for patients in desperate need of real progress. And we will hold FDA accountable to that standard. 
This announcement came shortly after three companies, working in close consultation with the FDA, withdrew specific cancer indications for their PD1/PDL1 inhibitors because they didn't meet their clinical endpoints in confirmatory trials following accelerated approval (AA). They were KEYTRUDA (pembrolizumab) for metastatic small cell lung cancer [SCLC], IMFINZI (durvalumab) for previously treated advanced/metastatic bladder cancer, and OPDIVO (nivolumab) for SCLC that has progressed after platinum-based chemotherapy.    
[ii] Gyawali B, Hey SP, Kesselheim AS. Assessment of the Clinical Benefit of Cancer Drugs Receiving Accelerated Approval. JAMA Intern Med. 2019 Jul 1;179(7):906-913. doi: 10.1001/jamainternmed.2019.0462. PMID: 31135808; PMCID: PMC6547118. 
[iii] https://www.fda.gov/drugs/drug-approvals-and-databases/fda-approves-atezolizumab-pd-l1-positive-unresectable-locally-advanced-or-metastatic-triple-negative  
[iv] Schmid P, Adams S, Rugo HS, et al. Atezolizumab and Nab-Paclitaxel in Advanced Triple-Negative Breast Cancer. N Engl J Med. 2018;379(22):2108-2121. doi:10.1056/NEJMoa1809615  
[v] Schmid P, Rugo HS, Adams S, et al. Atezolizumab plus nab-paclitaxel as first-line treatment for unresectable, locally advanced or metastatic triple-negative breast cancer (IMpassion130): updated efficacy results from a randomised, double-blind, placebo-controlled, phase 3 trial. Lancet Oncol. 2020;21(1):44-59. doi:10.1016/S1470 
[vi] Impassion 131 was a trial testing the immune checkpoint inhibitor TECENTRIQ (atezolizumab) or placebo combined with paclitaxel (chemotherapy) in first-line advanced or metastatic triple-negative breast cancer. https://www.businesswire.com/news/home/20200806005915/en/Genentech-Update-Phase-III-StudyTecentriqCombination 
The Cancer Letter Recognizes NBCC History
In honor of Women's History Month in March, The Cancer Letter went into the archives to showcase how NBCC President Fran Visco has been on the breast cancer advocacy frontlines for decades.
The post featured the "Men in Suits" speech delivered by Visco in a U.S. Senate hearing in 1992.
"We will no longer be passive. We will no longer be polite. We can no longer afford to wait while Congress gets around to significant, decent funding for breast cancer."
Read the full speech here.
2021 Virtual Summit Countdown – Six Weeks and Counting! Spread the Word!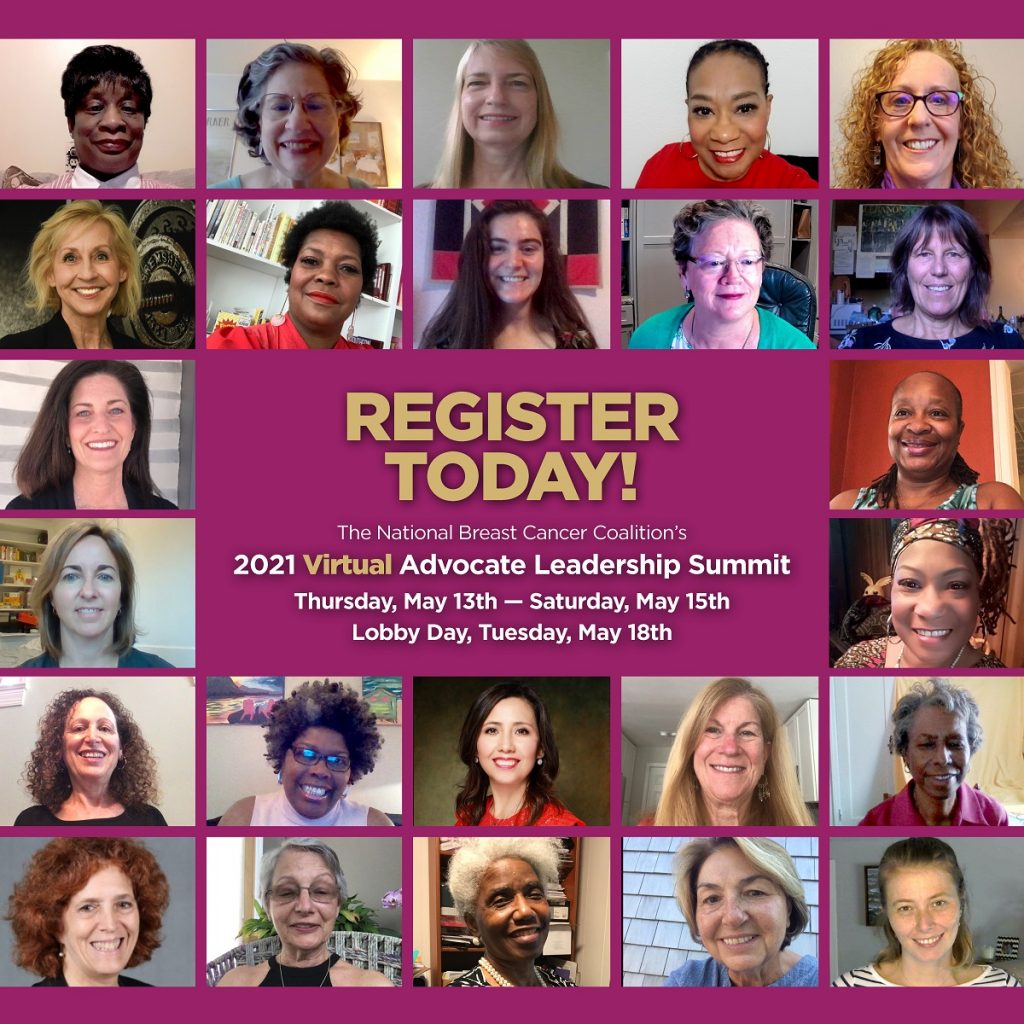 Join devoted breast cancer advocate leaders from across the country to hear from leading scientists, advocate visionaries, and your peers for networking, plenaries, and interactive workshops.
This year's summit includes a number of exciting plenary sessions as well as numerous workshops. In addition, Project LEAD grads can attend a special workshop on Friday, May 14th on the current status of CDK4/6 inhibitors in early and metastatic breast cancer.
Visit our website to preview the program agenda we have lined up. We hope to see you online.
More details about the event:
Summit: Thursday, May 13 – Saturday, May 15, 2021
Lobby Day Briefing and Preparation: Monday, May 17, 2021
Virtual Lobby Day: Tuesday, May 18, 2021
Register today or set up a Summit Champion fundraising page to support NBCC's mission to end breast cancer and earn your Summit registration!
For those of you participating in our Summit Champion fundraising activity, we have prepared a Fundraising Guide to help you make the most of your activities. This resource provides a wealth of tips and helpful strategies for reaching your fundraising goal!
Hear What Advocates Have to Say About the Summit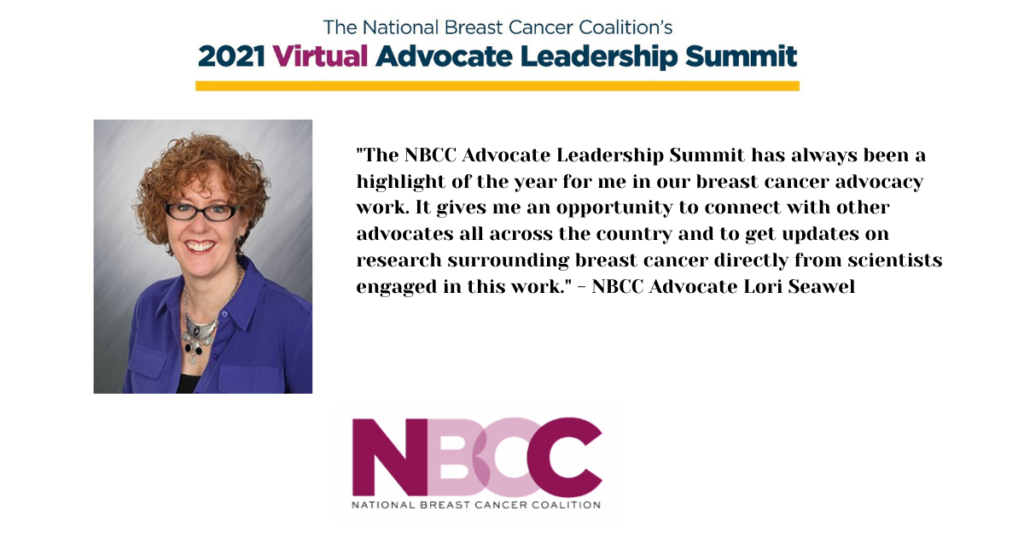 Join the President's Council

Every second counts in our efforts to achieve the goal of ending breast cancer. And every dollar made equates to more lives saved.
A $1,000 or more gift entitles you to a membership in the President's Council, an exclusive membership group with special benefits. Members receive regular communications directly from President Fran Visco on current breast cancer issues, recognition in publications, and invitations to special events. Your gift is more than a contribution. It is an investment that will enable us to end breast cancer, once and for all. Donate today.