Call to Action Online – August 16, 2021
August 16, 2021
---
NBCC Comments on Health Care Public Option
In late July, NBCC submitted a comment on a health care public option with the Senate Health, Labor, and Pensions (HELP) and House Energy & Commerce Congressional Committees. The committees requested comments to help inform them as they draft public option legislation. The letter provides NBCC input on how a health care public option should be configured. These comments are based on NBCC's Framework for a Health Care System Guaranteeing Access to Quality Health Care for All. 
The NBCC Framework was developed in 2003 to address a legislative approach to guaranteeing access to quality health care for all. A health care system that is built on this framework will:
Provide a basic benefits package that is comprehensive and based on sound scientific evidence
Maintain continuity of coverage
Be efficient and cost-effective
Be fully funded through shared financial responsibility
Be sustainable and affordable
The proposed health care system must also be established to:
Evaluate and support development of medical evidence for health interventions upon which coverage will be based
Support ongoing and continuous comparison of interventions to ensure access to appropriate and cost-effective health care
Modify and expand current benefits as appropriate based on evidence
Now more than ever, individuals must have access to affordable health care for all their medical needs. NBCC has long believed that everyone who needs health care must have access to quality care, and we will continue to promote access to quality care as one of our top public policy priorities.
You can learn more about NBCC's Framework and our ongoing public policy priorities here.
Take Action during August Recess
The Congress has now adjourned for August Recess. While Representatives and Senators are in their home districts, this is our opportunity to contact them at home, tell them about NBCC, and ask them to support the Metastatic Breast Cancer Access to Care Act (MBCACA).
NBCC's August Recess Toolkit has everything you need to take action while your Members are home . If your Member has not cosponsored the MBCACA, write a personalized message urging them to sign on. Send a letter to the editor of your local newspaper, use social media to draw attention to the legislation, and schedule a meeting with your legislator's district office. Your Members are accountable to their constituents, so let your voice be heard.
You can use the Action Center to check whether your Member of Congress has cosponsored the MBCACA. If you have any questions or need additional resources, please reach out to the NBCC Grassroots Coordinator, Jessica Francis, at jfrancis@stopbreastcancer.org.
Get Vote Ready with NBCC on National Voter Registration Day, September 28
National Voter Registration Day is about democracy. It's about doing something, big or small, to help more people in our communities participate and vote. As a national partner for National Voter Registration Day, NBCC is helping people find their voice, take action and effect change. Sign up here to participate in voter registration activities with NBCC and #getvoteready.
Upcoming Townhall Meetings Happening Near You
Attention Utah and Oregon advocates: there are Representatives in your states who will be holding upcoming townhall meetings. Townhall meetings are a great way to get your voice heard by your Members while they are in-district. Whether virtual or in-person, townhalls offer an additional platform to get NBCC's public policy priorities in front of legislators. The upcoming townhall meetings are listed below:
Utah
On Monday, August 30, 2021, at 6:00pm MDT, Rep. John R. Curtis (R-UT-003) will hold a townhall meeting in Cedar Hills, UT. Get more information here.
On Tuesday, August 31, 2021, at 6:00pm MDT, Rep. John R. Curtis (R-UT-003) will hold a townhall meeting in Woodland Hills, UT. Get more information here.
Oregon
On Thursday, September 9, 2021, at 6:00pm PDT, Rep. Suzanne Bonamici (D-OR-001) will hold a telephone townhall meeting. Get more information here.
If you know of townhall meetings in your area, let us know. If you have questions about upcoming townhall meetings or need talking points or other resources, please contact Jessica Francis at jfrancis@stopbreastcancer.org.
NBCC Advocate Spotlight: Christine Carpenter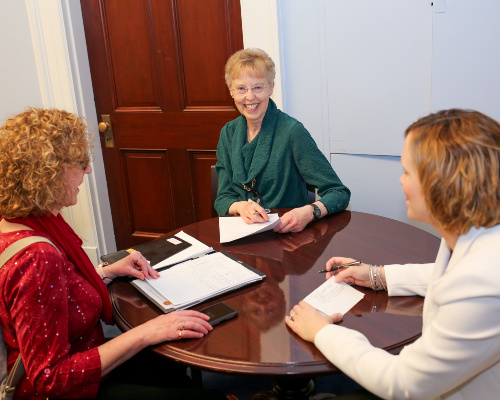 Christine Carpenter is a fierce advocate for NBCC's federal policy priorities and its mission to end breast cancer. Christine was diagnosed with breast cancer 27 years ago. She takes on all aspects of the NBCC mission: she acts as Iowa field coordinator with the Iowa Cedar Valley Cancer Committee's Beyond Pink TEAM, and the Iowa Breast Cancer Advocacy Network, a board member, a science advocate, and a leader in every sense of the word. Read more about Christine's incredible story here.
Join Us
NBCC increases federal funding for breast cancer research, monitors how research funds are spent, expands access to quality health care, and ensures that trained advocates influence all decisions affecting breast cancer. Join NBCC and thousands of others to keep breast cancer a priority for Congressional and state policymakers. Join our efforts today.