Call to Action Online – February 2, 2021
February 2, 2021
---
COVID-19 Vaccination and Cancer 
Are breast cancer patients considered high-risk and given priority for the COVID vaccines? It depends on where you live. We all know that there is limited availability of the vaccine in most places and that different communities are making the vaccine available to the public based on a priority list. The oncology community has issued guidelines based on expert opinion, on whether cancer patients should be prioritized and whether certain cancer treatments should preclude or delay vaccination.
According to the CDC, persons with high-risk medical conditions should be prioritized after frontline health care workers, essential non-health care workers, and individuals over 75 years of age. High-risk medical conditions (full list available here) include cancer.
On January 22, 2021, the National Comprehensive Cancer Network (NCCN) released their Preliminary Recommendations of the NCCN COVID-19 Vaccination Advisory Committee, and concluded that:
Patients with cancer should be prioritized for vaccination (according to the CDC priority group 1b/c) and should be immunized when vaccination is available to them.
Immunization is recommended for all patients receiving active therapy, with the understanding that there are limited safety and efficacy data in these patients.
Reasons for delay of vaccines are similar to the general public (e.g., recent exposure to COVID-19), and cancer-specific factors. Vaccination should be delayed for at least 3 months following hematopoietic cell transplantation (HCT) or engineered cellular therapy (e.g., CAR-T cells) to maximize vaccine efficacy.
Caregivers and household/close contacts should be immunized when possible.
The recommendations are based on the expert opinion of the committee as there is limited to no clinical efficacy data currently available in cancer patients.
The complete guidance document is available here.
What's New in Breast Cancer Treatment?
Early-stage hormone-receptor positive, HER2 negative (HR+/HER2-) breast cancer is the most commonly diagnosed type of breast cancer. While the majority of individuals with this diagnosis will not recur, approximately 20-30% will within 10 to 20 years of their initial diagnosis, and often as incurable distant metastatic disease. The FDA has approved three CDK4/6 inhibitors in advanced and metastatic HR+/HER2- breast cancer: palbociclib [IBRANCE], abemaciclib [Verzenio], and ribociclib [Kisqali]. Long-term follow-up in the clinical trials indicate that overall survival (OS) is improved in the metastatic setting with the use of ribociclib (median OS not yet reached; 70.2% vs. 46.0% at 42 months) and abemaciclib (median OS benefit, 9.4 months; 46.7 vs. 37.3 months), but not as of yet, for palbociclib.
These findings have led to a number of trials exploring the potential clinical value of these drugs in the early breast cancer setting, and the results of some of these trials are beginning to surface. Studies to date reveal mixed findings in early breast cancer, with two trials (PALLAS, PENELOPE-B) of palbociclib demonstrating no benefit and very early results in monarchE (abemaciclib) showing a preliminary benefit of 3.5% absolute reduction in IDFS. The results from NATALEE (ribociclib) are not yet out.
There are key questions being discussed among the scientific and advocate community about these mixed results. In the meantime, advocates should look for longer-term follow up data for all trials, and in monarchE to confirm the continued benefit in IDFS of abemaciclib and if this will translate to an overall survival benefit in the long run. In addition, we should focus on the results from the ongoing NATALEE trial, which is studying the addition of 3 years (rather than 1 or 2 years) of ribociclib, at a lower dose than used in the metastatic setting, to standard-of-care endocrine treatment in high-risk early-stage HR+/HER2- breast cancer, which has not yet been reported.
See here for high-level summaries of relevant trials and key findings and questions to date.
Save the Date: 2021 Virtual Advocate Leadership Summit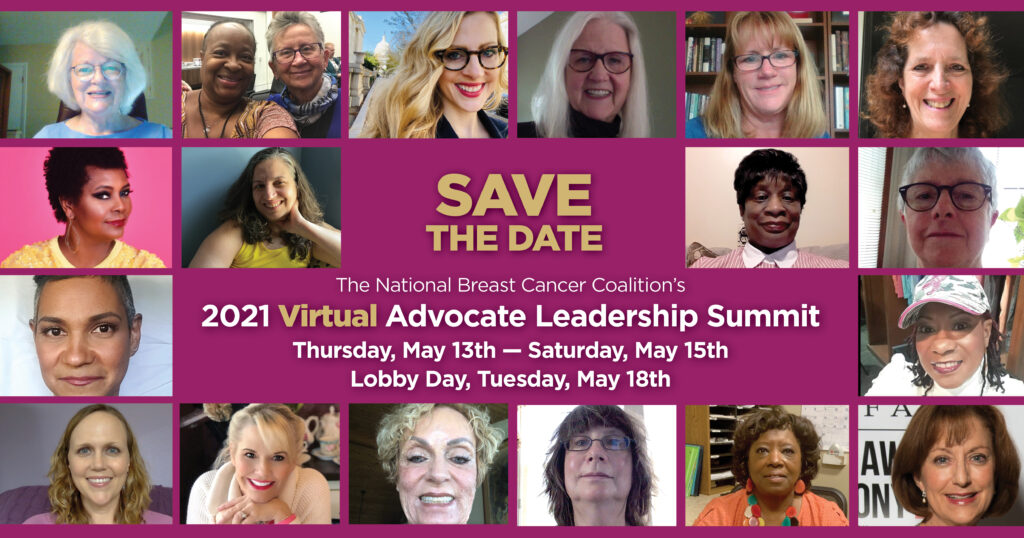 Be Bold Together: Advocates in Action to End Breast Cancer
NBCC is excited to announce that we will hold our 2021 Virtual Advocate Leadership Summit on May 13th-15th, followed by Lobby Day on May 18th.
Join with fellow survivors, advocates, and members of the breast cancer community, who are lending their voice and transforming breast cancer research and public policy, and ensuring quality healthcare for all.
Exciting plenaries and skill-building workshops will focus on the most critical areas of breast cancer research, science, and public policy. Attendees will have many opportunities to network with fellow breast cancer survivors and advocates and connect with leading researchers in the field.
The Summit will be followed by our annual Lobby Day on May 18th, when advocates will reach out to their elected officials about policies that affect the breast cancer community.
Mark your calendar and stay tuned for more details on registration, sessions, and speakers.
Tell us your NBCC Advocacy Story
We are part of NBCC for a reason, and that reason is different for each of you. You may be a survivor or the family member of someone who has breast cancer or has lost their life to breast cancer. Or, another reason entirely. We need your stories. Why are you an NBCC advocate? We want to share your advocacy story with others so they, too, can become a catalyst in our fight to end breast cancer. Let them know it is not only possible to change the world, but that each one of us can help make that happen.
Make a Donation 
Every second counts in our efforts to achieve the goal of ending breast cancer. And every dollar made equates to more lives saved.
A gift of $1,000 or more entitles you to a membership in the President's Council, an exclusive membership group with special benefits. Members receive regular communications directly from President Fran Visco on current breast cancer issues, recognition in publications, and invitations to special events.
Please let us count on you with a tax-deductible contribution to the National Breast Cancer Coalition Fund. Your gift is more than a contribution. It is an investment that will enable us to end breast cancer, once and for all. Donate today.