Call to Action Online – February 28, 2020
February 28, 2020
---
Meet NBCC's New Chief Operating Officer, Kristin Walega
Kristin Walega joined NBCC as Chief Operating Officer in November. Kristin is a breast cancer survivor and an advocate. After completing her treatment in 2017, she wanted to play an active role in ending breast cancer and found NBCC; she attended the Summit in 2018 and 2019. Kristin brings over 20 years of experience in non-profit leadership executing strategy, establishing strategic partnerships, and leading teams that support the growth of people and programs. Kristin comes to NBCC from City Year, where she first served for two years as an AmeriCorps member in Philadelphia. Most recently, she served for eight years as the Chief of Staff at City Year Washington, DC. While at City Year Washington, D.C., Kristin oversaw the development and implementation of an annual strategic plan generating operational readiness, program improvements, increased fundraising, and stronger partnerships that doubled program size. "My experience, attending my first NBCC Advocate Summit, blew me away with the focus and determination to science and advocacy. I'm excited to be on the NBCC team and look forward to supporting our advocates in all we are doing to end breast cancer."
Register Today for the 2020 Advocate Leadership Summit
This year's Summit will be held at the Park Hyatt hotel in Washington, DC, on May 2-4, 2020. Participants will attend exciting plenary sessions and intimate workshops led by some of the country's leading experts in breast cancer research. They will learn about important topics in breast cancer science, hear about the newest advances, as well as explore the complicated political climate in which we must advocate for policy change. The Summit will be followed by NBCC's annual Lobby Day on May 5, when advocates will take to Capitol Hill to ensure that their representatives are with us in our mission to end breast cancer.
Sessions include:
Understanding and Addressing the Root Causes for Disparities in Breast Cancer § Finding Cancer Early: What Does It Buy and Cost Us? § How Did We Get Here? A Brief History of Breast Cancer and Business § The 2020 Presidential Race and Healthcare Policy § Insights into Breast Cancer Subtypes and the Unique Biology of Lobular Breast Cancer § and many more.
Confirmed speakers include:
Karen Cichowski, PhD; Jonathan Darrow, JD, MBA, LLM; Cyrus Ghajar, PhD; Gregg Gonsalves, PhD; Jonathan Kimmelman, PhD; Kenneth Kinzler, PhD; Keith Knutson, PhD; Lisa Newman, MD MPH; Steffi Oesterreich, PhD; Ayesha Shajahan-Haq, PhD; H. Gilbert Welch, MD, MPH; Alan Welm, PhD; and more.
**Be sure to book your hotel by April 10 to receive NBCC's special negotiated rate.**

Attend the Project LEAD® Institute
Applications are now open for the 2020 Project LEAD Institute. This intensive six-day course gives advocates a strong foundation in the science of breast cancer, enabling them to sit at all tables where decisions about breast cancer are made. Participants will receive rigorous training in areas such as cancer biology, genetics, epidemiology, and clinical trial design, from a group of highly experienced faculty. Graduates of Project LEAD will join the ranks of breast cancer advocates widely acknowledged to be among the most effective in the field.
This year's Project LEAD Institute will be held on July 26-31 in La Jolla, CA. We use a rolling admissions process, with applicants accepted monthly. The final deadline to apply is April 20, 2020. The application process is competitive, so be sure to apply early.
If you have already attended Project LEAD, please help us continue to grow the program by recommending advocates from your networks to attend. With your help, we can work together to find an end to breast cancer.
For more information about the Project LEAD Institute and instructions on how to apply, please visit our website.
Women With Balls® NYC 4th Annual Bowling Event is BACK
Have fun and make a difference. Join a team on Wednesday, May 27, 2020, at Frames Bowling Lounge to strike breast cancer out. This is a great event that brings together like-minded, compassionate, and energetic women and men to raise money, bowl and have fun – all for a really wonderful cause. Enjoy food, drinks and prizes.
There are three ways you can participate:
1. Teams of 8 bowlers raise a minimum of $3,600 to play and will receive a private lane.
2. Teams of 4 bowlers must raise a minimum of $1,800 to play.
3. Individuals who raise a minimum of $450 will be paired with a team.
Are you interested in being a 2020 Women with Balls® Event Sponsor? Download information to learn more.
For more information and to register your team, click here. If you are unable to attend and wish to donate, contact Sharnita Goins at 202-973-0569 or SGoins@stopbreastcancer.org.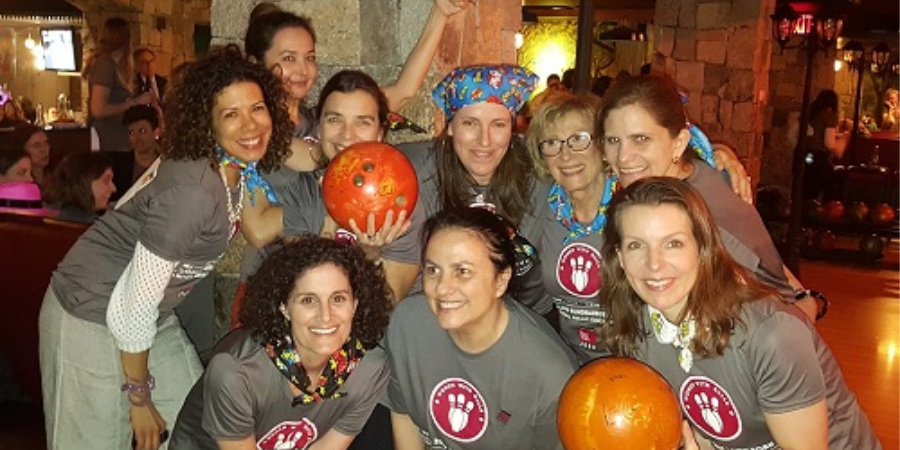 All proceeds raised will support the National Breast Cancer Coalition's mission to end breast cancer.
Make an Impact
We are stronger together, and real progress can be made if we use our collective power to bring focus to ending breast cancer. Help us educate leaders and the public about evidence-based decision making in breast cancer issues. Make your gift now.