Call to Action Online – July 15, 2021
July 15, 2021
---
Keep it Going: Father's Day Campaign Momentum
Those in power too often forget about the toll breast cancer takes on families and friends. In June, NBCC launched an advocacy campaign centered around Father's Day, with the goal of reaching 100 House and 20 Senate cosponsors on the Metastatic Breast Cancer Access to Care Act (MBCACA). This legislation would waive the 24-month waiting period for Medicare and the 5-month waiting period for Social Security Disability Insurance benefits for eligible individuals with metastatic breast cancer.
The Father's Day Campaign featured compelling videos from fathers, husbands, wives, all advocates urging Members of Congress to cosponsor the MBCACA in honor of their lost loved ones. After a great push from our advocates, we now have 119 House bipartisan cosponsors, and 15 Senate bipartisan cosponsors on this important legislation. Thank you to our advocates for your great work!
Father's Day may be behind us, but our work is far from over. Share your story with your Members of Congress by taking action in the NBCC Action Center. Send a personalized message to your Members of Congress, urging them to cosponsor this legislation.
Making the Most of August Recess
The 117th Congress will adjourn for August recess soon. The House will be out from Aug. 2- Sep. 20 and the Senate will recess from Aug. 9-Sep. 13.[i] During this time Representatives and Senators will be in their home districts. This is our opportunity to act and contact them when they are not on the Hill and ask them to support the Metastatic Breast Cancer Access to Care Act (MBCACA).
Head over to the Action Center to check whether your Member of Congress has cosponsored the MBCACA yet. If they have not, take the time to personalize your message urging them to sign on. Send a letter to the editor of your local newspaper, use social media to draw attention to the legislation, and schedule a meeting with your legislator's district office. NBCC's August Recess Toolkit will help you take action.
If you have any questions or need additional resources, please reach out to the NBCC Grassroots Coordinator, Jessica Francis, at jfrancis@stopbreastcancer.org.
Upcoming Townhall Meetings Happening Near You
Attention Utah, Illinois, and Oregon advocates: There are Representatives in your states who will be holding upcoming townhall meetings. Townhall meetings are a great way to get your voice heard by your Members while they are in-district. Whether virtual or in-person, townhalls offer an additional platform to get NBCC's public policy priorities in front of legislators. The upcoming townhall meetings are listed below:
Utah
On Thursday, July 15, 2021, at 5:30pm MDT, Rep. John R. Curtis (R-UT-003) will hold a townhall meeting in Draper, UT. Get more information here.
Illinios
On Saturday, July 17, 2021, at 11:30am CDT, Rep. Sean Casten (D-IL-006) will hold a townhall meeting in Downers Grove, IL. Get more information here.
Oregon
On Tuesday, August 3, 2021, at 11am PDT, Rep. Suzanne Bonamici (D-OR-001) will hold a virtual townhall meeting. Get more information here.
If you know of townhall meetings in your area, let us know.  If you have questions about upcoming townhall meetings or need talking points or other resources, please contact Jessica Francis at jfrancis@stopbreastcancer.org.
Help Make an Impact on Public Policy – Join NBCC's Board of Directors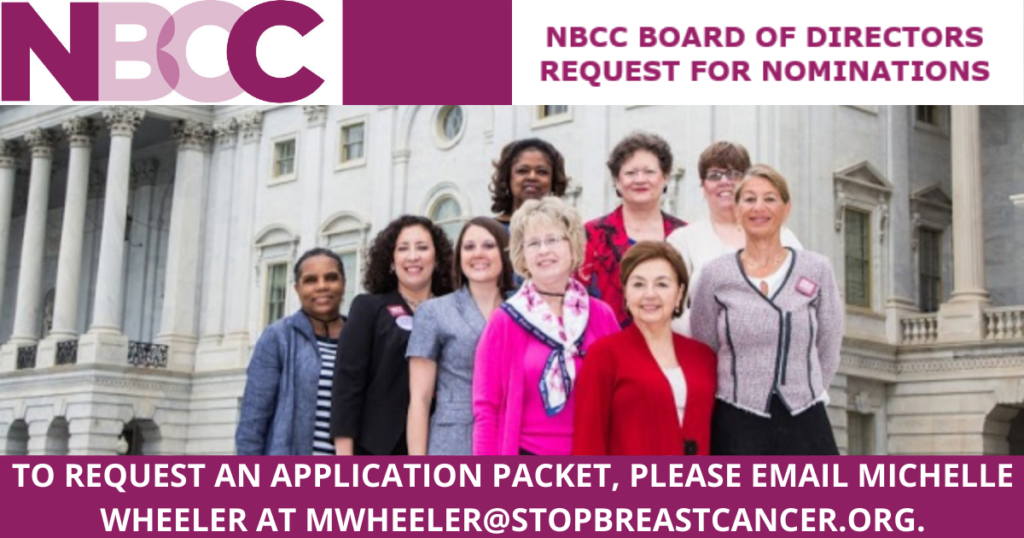 NBCC invites organizations to apply to serve on the Board of Directors for a three-year term beginning January 2022. The NBCC Board of Directors comprises up to 26 organizations representing national, state, regional, and local constituencies that bring diverse perspectives to NBCC's public policy and legislative initiatives. Click here to see a list of current Board members.
Organizations interested in joining the NBCC Board of Directors must submit a completed application no later than Monday, August 2, 2021. To request an application packet, please email Michelle Wheeler, Senior Manager of the Executive Office at mwheeler@stopbreastcancer.org.
NBCC Advocate Spotlight: Wanda Lucas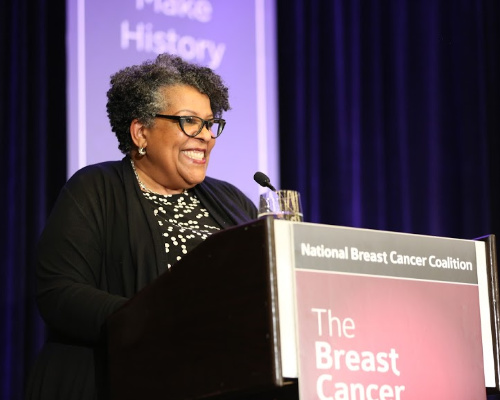 Wanda Lucas was diagnosed with breast cancer in 2006. Learning that so many African American women die from breast cancer, she gave up her career in the corporate world and became actively involved in research at Georgetown University focused on addressing health disparities primarily as it relates to African American women. In various roles, she supported research studies as both a Survivor Coach, member of a grant's Advisory Board, and a champion for minority recruitment. Wanda became a leader at NBCC and its Board Vice President. Read more about Wanda's incredible story here.
Join Us
NBCC increases federal funding for breast cancer research, monitors how research funds are spent, expands access to quality health care, and ensures that trained advocates influence all decisions affecting breast cancer. Join NBCC and thousands of others to keep breast cancer a priority for Congressional and state policymakers. Join our efforts today.
[i] These dates can change by decision of chamber leadership.