Call to Action Online – June 15, 2023
June 15, 2023
---
NBCC Grassroots Advocates Secure Key Bipartisan Supporters for Metastatic Breast Cancer Access to Care Act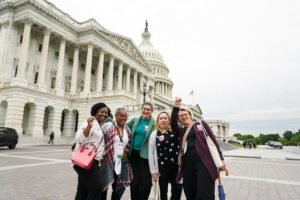 NBCC grassroots leaders continue to secure cosponsors for the Metastatic Breast Cancer Access to Care Act, legislation which would eliminate the arbitrary and onerous waiting periods for Social Security Disability Insurance benefits and Medicare coverage for those with metastatic breast cancer. To date, the bill has garnered 153 bipartisan cosponsors in the House and continues to build momentum in the Senate.
Our work continues; take action today by asking your own congressional representatives to support this critical legislation.
Help Make an Impact on Public Policy – Join NBCC's Board of Directors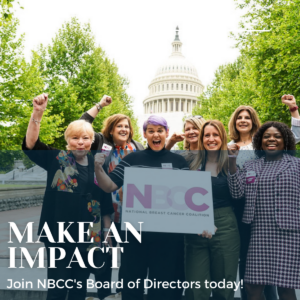 NBCC invites organizations to apply to serve on the Board of Directors for a three-year term beginning January 2024. NBCC's Board of Directors reflects the geographic, constituent, and political diversity that is breast cancer and brings unique perspectives to NBCC's public policy and legislative initiatives.
Interested organizations must submit a completed application no later than Monday, July 31. To request an application packet, please email Michelle Wheeler, Director of the Executive Office, at mwheeler@stopbreastcancer.org.
NBCC Sends Open Letter to FDA Commissioner
NBCC recently sent a letter (PDF) to the Food and Drug Administration (FDA) Commissioner Dr. Robert Califf, applauding his stated commitment to a US drug development system that works and advances drugs that provide meaningful outcomes for patients. We appreciated the Commissioner's view that drug prices should reflect the value they provide to patients. NBCC looks forward to working with FDA leaders and lawmakers to ensure an efficient, well-run, and robust FDA that will benefit patients and preserve the highest level of public health while employing the latest and best technology and science.
FDA Guidance on Accelerated Approval Trial Design for Oncology Drugs Falls Short 
The FDA recently issued draft guidance on clinical trial designs for accelerated approval of oncology drugs. On May 26, NBCC submitted a public comment on this draft guidance identifying three key areas that need to be addressed: stopping the persistent use of progression-free survival (PFS) as a measure of clinical benefit, ensuring that clinical trials enroll enough participants to determine real clinical benefits, and including educated and trained patient advocates in the clinical trial design and implementation process.
The draft guidance, unfortunately, does not advance a process that will result in drugs that save lives. It perpetuates approval based on the surrogate endpoint, PFS, instead of prioritizing clinical trial designs that will show overall survival. It also fails to include trained patient advocates in the process.
Support NBCC's Public Policy Work Today
NBCC increases federal funding for breast cancer research, expands access to quality health care, and works to create breast cancer health care policy and system change. Join us, and thousands of NBCC members and advocates, in our work to ensure breast cancer remains a priority for federal and state policymakers. Become a member or make a gift today.
All memberships and gifts made to the National Breast Cancer Coalition's 501(c)4 are NOT tax-deductible. Financial information about our tax-deductible arm, the National Breast Cancer Coalition Fund, can be obtained by contacting us at 2001 L Street, NW, Suite 500 PMB #50111, Washington, DC 20036, or by calling 800-622-2838.