Call to Action Online – March 1, 2022
March 1, 2022
---
Registration And Fundraising Are Now Open for NBCC's 2022 Advocate Leadership Summit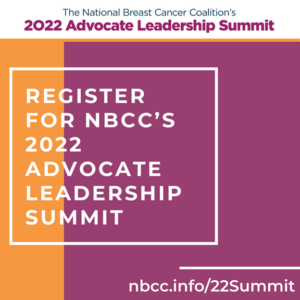 When: April 30 – May 2, 2022, followed by NBCC's Annual Lobby Day on May 3
Where: Park Hyatt Hotel, Washington, DC
NBCC's Annual Advocate Leadership Summit provides unparalleled training and education for advocates who wish to gain the knowledge and confidence necessary to challenge science and medicine. These training sessions will help you take a leadership role in breast cancer advocacy.
This year, our program will feature exciting topics including:
Breast Cancer Disparities: Taking Steps to Eliminate Health Inequities and Social Injustices,
Getting to Value-Based Cancer Care,
No Aggregation Without Representation: What Every Breast Cancer Patient Should Know About Their Rights Online,
Vaccines in Cancer: Lessons Learned from COVID-19,
How Can Grassroots Organizations Save Democracy,
and many more!
We can't wait to see you in person! Register today and stay informed through our website.
Apply for the Project LEAD Institute!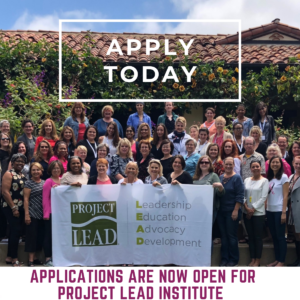 A reminder that NBCC is still accepting applications for the 2022 Project LEAD Institute! Apply now for NBCC's premier science training program.
Applications for Session One (July 24-29) are now closed, but there is still space available in Session Two (July 31 – August 5). Be sure to get your applications in soon as the program is filling up quickly!
To learn more about the program and how to apply, please visit our website: Project LEAD Institute.
Donate Today
The National Breast Cancer Coalition's mission is to end breast cancer. Every dollar raised is immediately put to work funding scientific research, collaborative workshops and symposia, advocacy training, and public policy work in Washington, DC, and in state capitals across the country in support of our mission.
Every minute counts in our efforts to achieve the goal of ending breast cancer. Every dollar equates to more lives saved.
Your gift is more than a contribution. It is an investment that will enable us to end breast cancer, once and for all.