Call to Action Online – September 30, 2022
September 30, 2022
---
This October, Take Action to Stop Breast Cancer
This October, we want more than pink. We need action to end breast cancer! Visit our website to learn how you can stand up against breast cancer every day.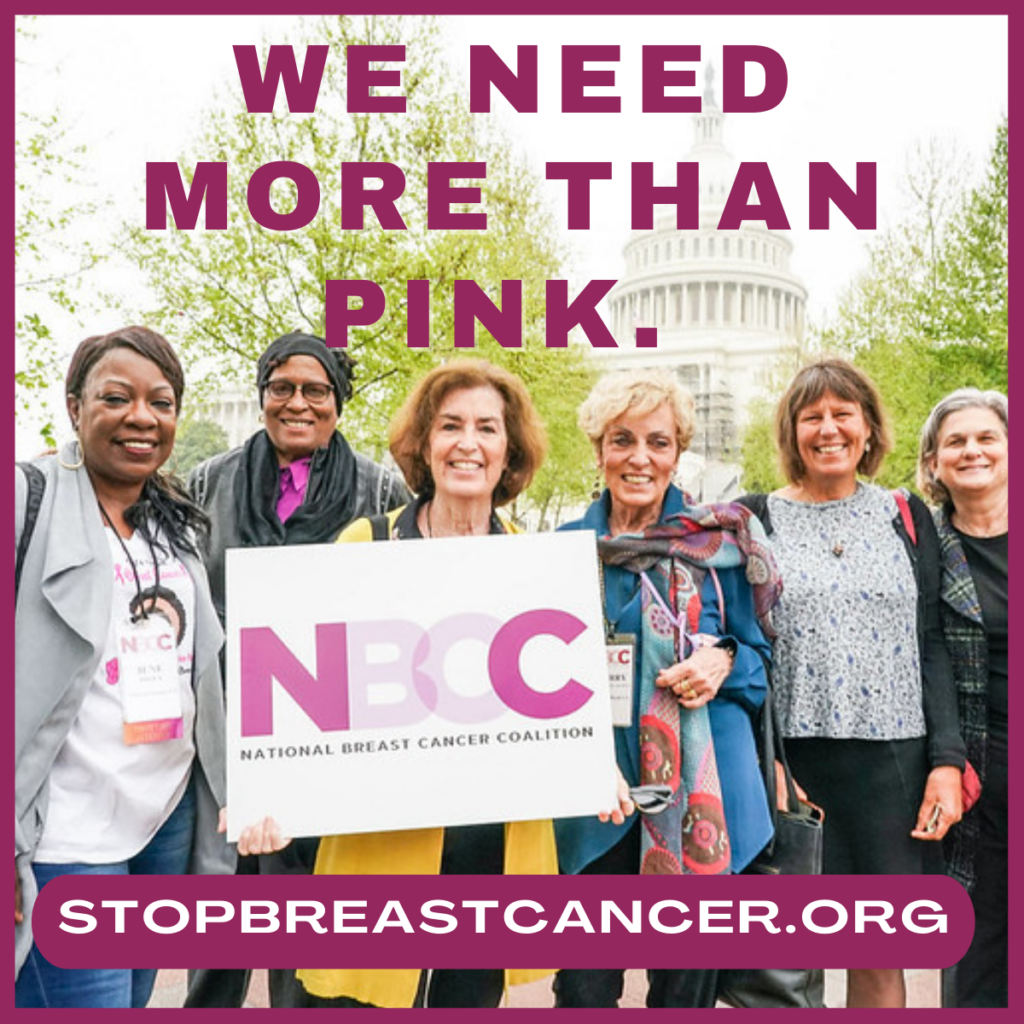 ESMO 2022 – Key Take-Aways in Breast Cancer
Every fall, the European Society of Medical Oncology (ESMO) hosts their annual conference in Europe. Researchers, oncologists, oncology health professionals, industry representatives, and patient advocates attend to hear updates on the latest research and to attend educational sessions in various tracks related to cancer. This year over 2,000 abstracts were presented at the conference in Paris France September 9-13, 2022.
Among those were the results from the TROPiCS-02 clinical trial: A randomized phase 3 study of sacituzumab govitecan-hziy (SG; TRODELVY®) versus treatment of physician's choice in patients with hormone receptor-positive/HER2-negative (HR+/HER2-) advanced or metastatic breast cancer. Interim results from this trial were presented earlier in the summer at the 2022 ASCO meeting in Chicago. At that time, data for the clinically important endpoint, overall survival (OS), were immature. An updated readout of the data was presented at ESMO 2022.
SG is an antibody-drug conjugate (ADC) that targets Trop-2, an antigen that is overexpressed on the cell surface of some breast cancer tumor cells, especially in triple-negative breast cancer (TNBC) and is linked to tumor progression and poor prognosis. For more details on how ADC's work, you can read our June 27 Science Spotlight.
SG first received accelerated approval from the FDA in April 2020[i] and then regular FDA approval in April 2021 for relapsed or refractory metastatic TNBC. This approval was based on the results of the phase III randomized ASCENT trial[ii] which demonstrated a 5.4-month improvement in OS. The drug, however, was shown to cause significant side effects, the most common being nausea, neutropenia, diarrhea, fatigue, anemia, vomiting, alopecia, constipation, rash, decreased appetite, and abdominal pain.
The phase III TROPiCS-02 study evaluated the use of SG in advanced or metastatic HR+/HER2- breast cancer. TROPiCS-02 randomized 543 heavily pretreated patients to either SG or treatment of physician's choice (TPC) (i.e., capecitabine, vinorelbine, gemcitabine, or eribulin). The primary endpoint was progression-free survival (PFS); the secondary endpoints included OS and safety.
At the first interim analysis of the trial data presented at ASCO 2022, PFS was improved by 1.5 months in SG arm compared with treatment of physician's choice. Median OS was still immature. With an additional couple of months of follow-up, results presented at ESMO 2022 demonstrated that SG results in an OS benefit of 3.2 months (14.4 months compared to 11.2 months for comparator chemotherapy). However, as presented at ASCO, grade 3 or above treatment-emergent adverse events (TEAEs) were present in 74% and 60% of patients in the SG and TCP arms respectively.
SG TEAEs: diarrhea, febrile neutropenia, neutropenia, and neutropenic colitis.
TCP TEAEs: febrile neutropenia, pneumonia, nausea, and dyspnea
SG arm: 6 deaths during treatment, 1 that was treatment-related
While this drug has demonstrated an OS benefit for heavily pretreated patients with HR+/HER2-, it has not yet received FDA approval though we imagine that will be a matter of time. At a cost of approximately $16,096 per 21-day cycle for a 70-kg (154-lb) person, and with heavy side effects, it may be a choice in the near term for patients with metastatic HR+/HER2- breast cancer with limited options. And while OS is an important endpoint for patients with limited options, having a good quality of life is also important. We continue to demand treatments that don't present such difficult decisions for patients.
---
[i] https://www.fda.gov/drugs/resources-information-approved-drugs/fda-grants-accelerated-approval-sacituzumab-govitecan-hziy-metastatic-triple-negative-breast-cancer
[ii] Bardia A, Hurvitz SA, Tolaney SM, et al. ASCENT Clinical Trial Investigators. Sacituzumab Govitecan in Metastatic Triple-Negative Breast Cancer. N Engl J Med. 2021 Apr 22;384(16):1529-1541. doi: 10.1056/NEJMoa2028485. PMID: 33882206.
---
NBCC President Receives the 2022 AACR Outstanding Achievement Award 
On September 21, NBCC President Fran Visco was awarded the 2022 American Association for Cancer Research (AACR) Outstanding Achievement Award in Public Service, Cancer Research, and Advocacy for her decades of groundbreaking work in patient advocacy.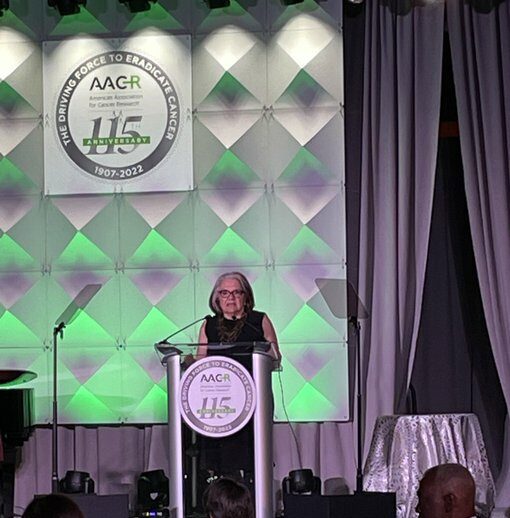 Save the Date for the 2023 Project LEAD® Institute
Mark your calendars! Next year's Project LEAD Institute will be held in La Jolla, CA from July 30 – August 4, 2023. Applications will open this October and acceptances will be made on a rolling basis. More details about Project LEAD are available on our website. Stay tuned for more information! We hope to see you there.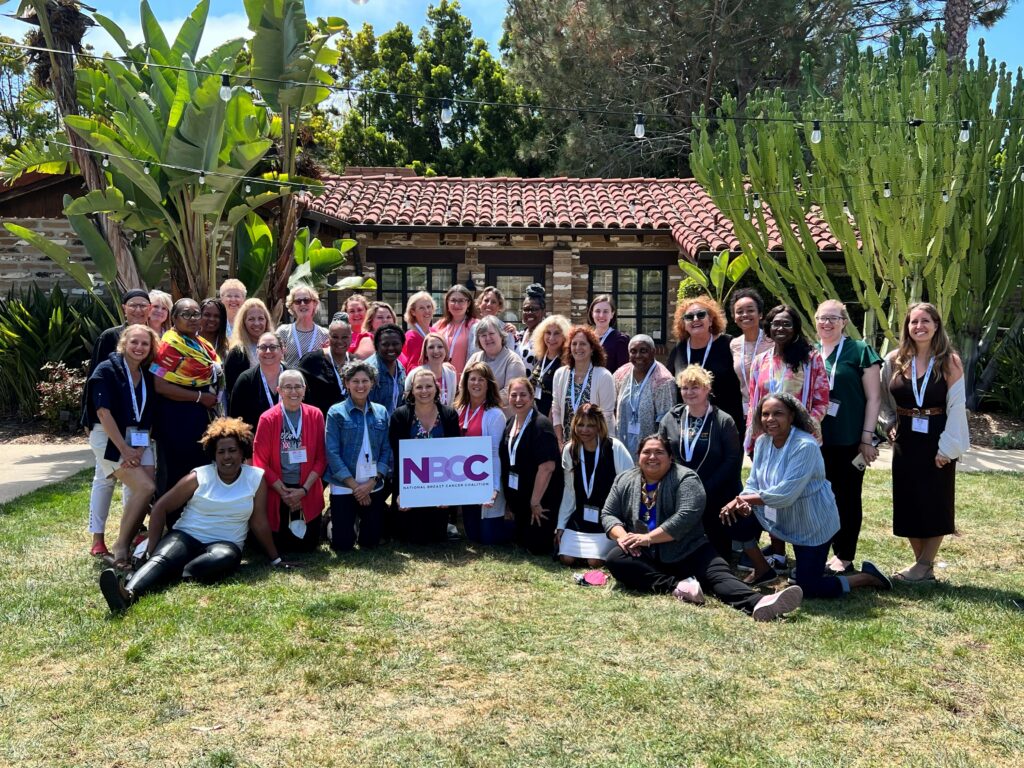 Be a Part of Women With Balls®!
On October 17th, the National Breast Cancer Coalition Fund (NBCC) will host Women With Balls NYC! Invite friends and family to bowl and fundraise to support NBCC.
Register to join a team, start your own, or sponsor a lane!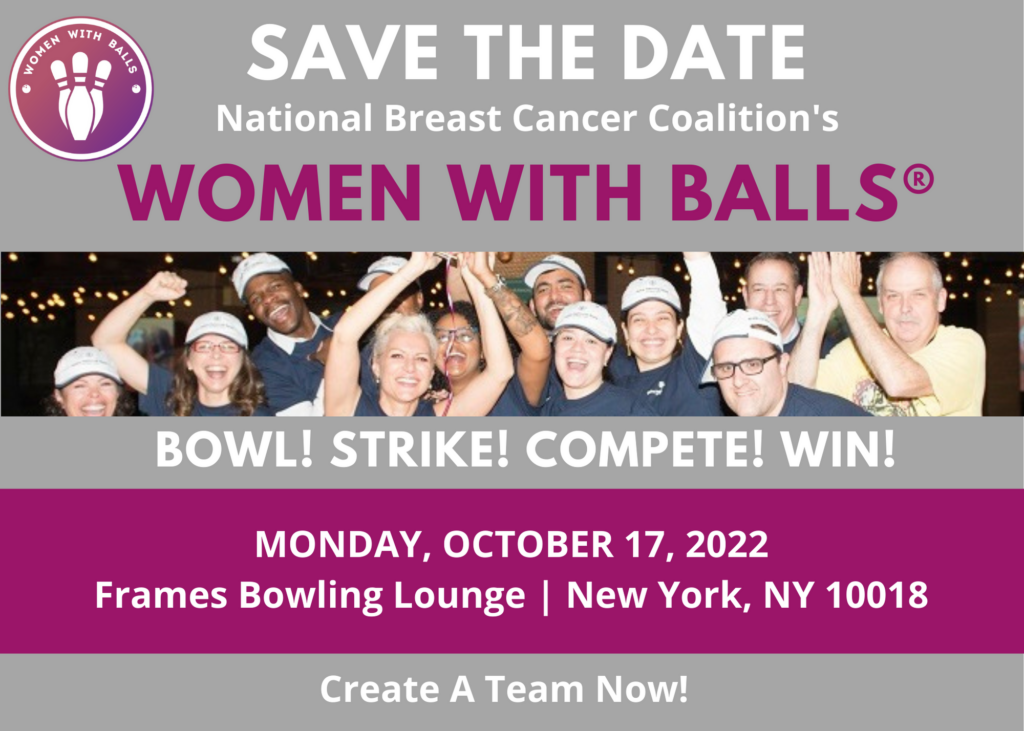 Join us at NBCC's Les Girls Cabaret 
Join us for an evening of song and celebration to benefit The National Breast Cancer Coalition Fund. Les Girls delivers a fantastic evening of laughter and song unlike any other. This signature fundraiser supports NBCC's education and training programs in breast cancer science, research, and advocacy that are critical to ending breast cancer and saving lives. Join us and help us end breast cancer.
To purchase tickets, sponsorships, or make an outright donation online click here!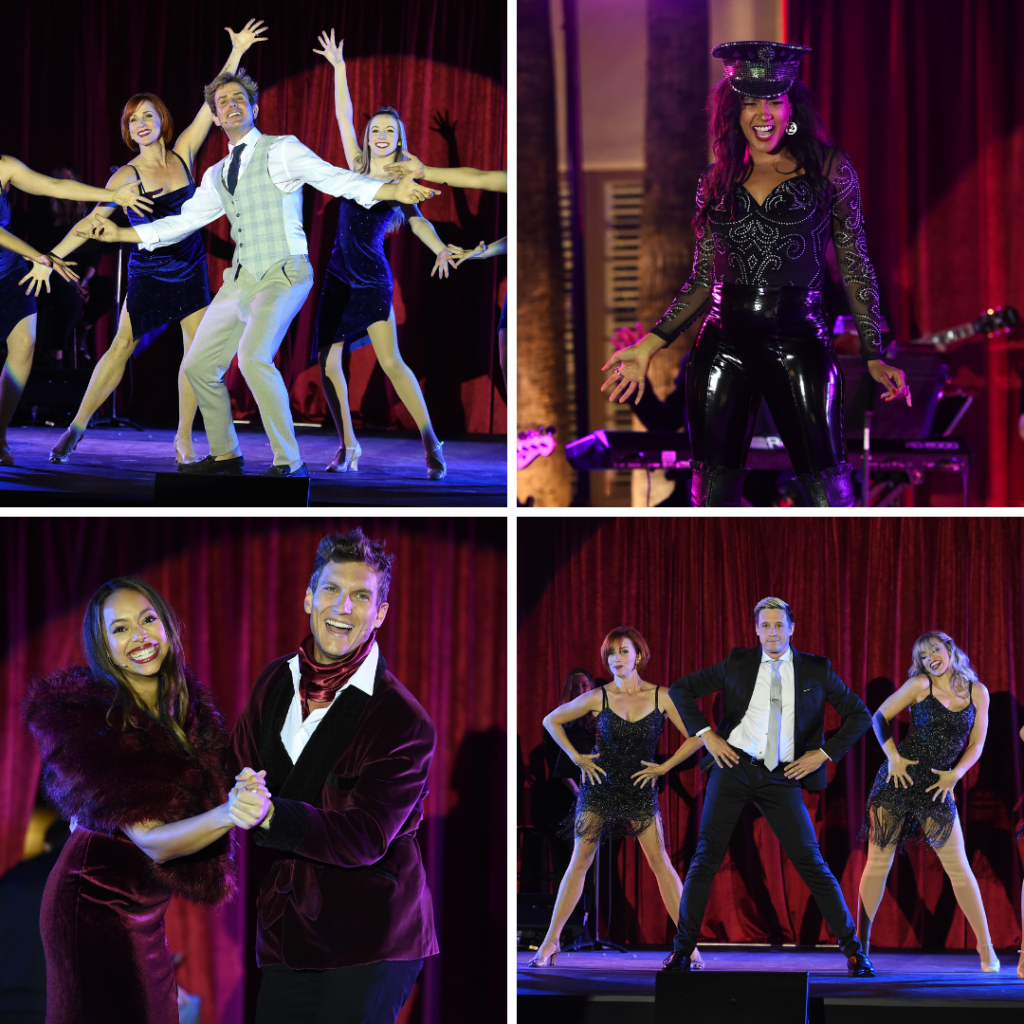 Save the Date for the 2023 NBCC Advocate Leadership Summit 
Mark your calendars for May 6-8, 2023! NBCC will once again hold our Advocate Leadership Summit in Washington, DC, at the Park Hyatt Hotel. Our annual Lobby Day will follow on May 9.
Planning has just begun for the 2023 Summit, and we continue to build a program that will expand the strengths of the tireless and talented NBCC advocates who share our mission to end breast cancer for everyone.
Stay tuned for more information!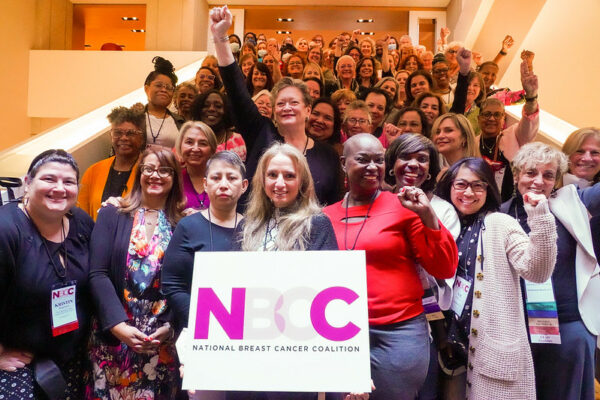 Donate Today 
The National Breast Cancer Coalition's mission is to end breast cancer. Every dollar raised is immediately put to work advancing scientific research, collaborative workshops and symposia, advocacy training, and public policy work in Washington, DC, and in state capitals across the country in support of our mission.
Every minute counts in our efforts to achieve the goal of ending breast cancer. Every dollar equates to more lives saved.
Your gift is more than a contribution. It is an investment that will enable us to end breast cancer, once and for all.