Call to Action Online – August 15, 2023
August 15, 2023
---
Advocates Meet with Key Lawmakers During Congressional Recess
Congress may be out on recess for the month of August, but NBCC leaders aren't slowing down—they're taking advantage of lawmakers' time at home by setting up meetings, attending town hall events, and making sure their elected officials know that breast cancer is a top policy priority.
NBCC advocates are particularly focused on building continued support for the Metastatic Breast Cancer Access to Care Act. To date, the bill has garnered 180 bipartisan cosponsors in the House. Want to be part of the action? Take a moment to ask your own congressional representatives to support this critical legislation.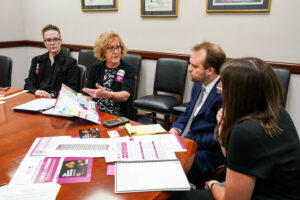 NBCC Leaders Continue to Push for Patient-Centered Outcomes in Oncology Clinical Trials
Chief Programs Officer Michelle Tregear joined Common Sense Oncology, a team of researchers working to ensure cancer care focuses on outcomes that matter to patients, and contributed to a recent The Lancet article on why "oncology needs a recalibrated approach."
With clinical trials, "more is not always better. Industry interests are not always aligned with patient interests," she explained to Medscape. "The system, by and large, is not addressing questions that really matter to patients and their families."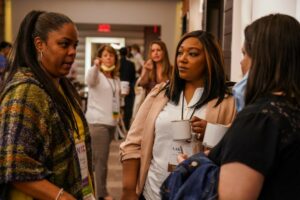 85 Organizations Now Support Metastatic Breast Cancer Access to Care Act
A number of new organizations have joined our growing list of Metastatic Breast Cancer Access to Care Act supporters. They represent thousands of breast cancer and health advocates working toward a wide range of national, state, and local interests—and their voices are key to building support for the legislation in Congress.
We are thrilled to have your support and encourage new organizations to join us anytime. Sign on here.
Congrats to the 2023 Project LEAD Graduates!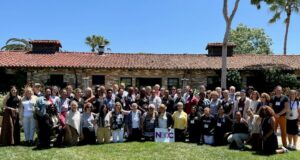 Earlier this month, more than three dozen advocates graduated from the Project LEAD Institute, an intensive six-day course providing students with a foundation of scientific knowledge to strengthen and empower themselves as activists. LEAD grads work in all aspects of breast cancer-related research, quality care improvement, and decision-making based on evidence-based health care.
View and download photos from this year's course, and learn more about Project LEAD programs.
Support NBCC's Public Policy Work Today
NBCC increases federal funding for breast cancer research, expands access to quality health care, and works to create breast cancer health care policy and system change. Join us, and thousands of NBCC members and advocates, in our work to ensure breast cancer remains a priority for federal and state policymakers. Become a member or make a gift today.
All memberships and gifts made to the National Breast Cancer Coalition's 501(c)4 are NOT tax-deductible. Financial information about our tax-deductible arm, the National Breast Cancer Coalition Fund, can be obtained by contacting us at 2001 L Street, NW, Suite 500 PMB #50111, Washington, DC 20036, or by calling 800-622-2838.