Call to Action Online – October 30, 2020
October 30, 2020
---
Real-World Data in Breast Cancer Research
On October 19th, Dr. Christopher Booth of Queen's University gave an exclusive presentation to LEAD grads on the limitations of real-world data (RWD), as well as many of the challenges and pitfalls surrounding its use. He discussed how RWD can provide important insights into the patient experience, answer questions surrounding access to care, quality of care, rare diseases, and other outcomes. Dr. Booth also stressed that while RWD is critically important, randomized clinical trials remain the 'gold standard' in establishing the efficacy of various treatments and standards of care. The two types of evidence should, ideally, be taken as complementary.
The session was moderated by NBCC advocate Tracy Solak and the presentation was followed by a lively Q&A with LEAD grads in attendance. Thank you to all who participated!
Action Doesn't Stop After October
A pink ribbon has never saved a life, but meaningful action has.
Thank you to all the advocates who took action throughout October – Whether it was telling their member of Congress to co-sponsor the Metastatic Breast Cancer Access to Care Act, writing a letter to the editor of their local paper, or learning more about issues facing the breast cancer community – we appreciate you.
We also appreciate your sharing our "Stop the Clock" campaign across social media platforms because Every 13 minutes, a woman dies of breast cancer. Learn more about ways you can help us end breast cancer once and for all at bit.ly/NBCCStopTheClock.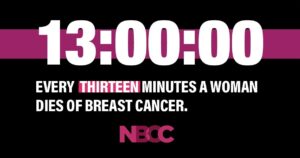 Save the Date for NBCC's First Ever Virtual Cabaret! 

Please join us for an evening of celebration to benefit the National Breast Cancer Coalition Fund on Sunday, December 6, 2020, at 5:00 p.m. Pacific Time / 8:00 p.m. Eastern Time.
This year, we are combining our fundraising events into a Virtual Cabaret Event, based on our amazing Les Girls Cabaret, which has been a great success in Los Angeles. It's the first time NBCC will bring this unique show to the world, all for a good cause.
The Virtual Cabaret will combine live and recorded performances from Broadway and Hollywood celebrities to deliver a fantastic evening of laughter and song, unlike any other. Proceeds raised from the cabaret will support NBCC's mission to end breast cancer.
To purchase tickets, sponsorship packages and journal ads or for more information, call 1-800-320-0803.
Online purchases can be made at Virtual Cabaret Online Tickets, Sponsorships, and Journal Ads or mailed to National Breast Cancer Coalition Fund, 1010 Vermont Ave., NW, #900, Washington D.C., 20005.
Follow NBCC on social media to learn more about our special guests and performances!  If you have any questions, please contact Sharnita Goins, Development Coordinator, at 1-800-320-0803 or by e-mail at NBCCevents@stopbreastcancer.org.
One More Day Left to Shop Jewelry to support NBCC
Get a head start on your holiday shopping! You still have one more day left to buy bracelets or silver jewelry to support NBCC. To honor those who are dear to you, in memory of those who are gone, and for the millions of others who are at risk, please consider purchasing a keepsake bracelet this October or for your holiday gifts. Visit www.CYNsJewelry.com.
With a purchase of the Black Onyx Bracelet, 100% of the profits will go to NBCC. You can choose another beaded bracelet or select an item from the silver collection, and 50% of the profits will be directed to NBCC.
Use the promo code NBCC2020 to receive discounted pricing and ensure that NBCC receives a portion of the profits! Visit the NBCC Collection Here.
Make a Donation to End Breast Cancer and Double Your Impact
When does your $50 donation, become $100?  This November!
Now, you can double your impact. Donate before November 30th, 2020, and your gift will be doubled thanks to the Vance Wall Foundation, who will match all gifts up to $100,000.
A $1,000 or more gift entitles you to membership in the President's Council, an exclusive membership group with special benefits. Members receive regular communications directly from President Fran Visco on current breast cancer issues, recognition in publications, and invitations to special events.
Please let us count on you with a tax-deductible contribution to the National Breast Cancer Coalition Fund. Your gift is more than a contribution. It is an investment that will enable us to end breast cancer once and for all. Donate today.