Call to Action Online – September 16, 2022
September 16, 2022
---
NBCC Breast Cancer Caucus Urges You to Vote
Breast cancer is a political issue. Public policy impacts every aspect of breast cancer. Since the National Breast Cancer Coalition's (NBCC) inception in 1991, we have been the leading political activists on breast cancer issues. From increasing the amount of breast cancer research funding to expanding access to care for women and men with breast cancer to working to ensure drug prices reflect value for the consumer, NBCC has successfully challenged our federal officials to play a role in ending breast cancer.
The 2022 Congressional midterm elections are critical to NBCC's mission to end breast cancer. We urge all breast cancer activists and their networks to vote on November 8.
Click here to get all the information you need to vote.
Download this digital postcard to share on social media and with your networks to urge them to vote.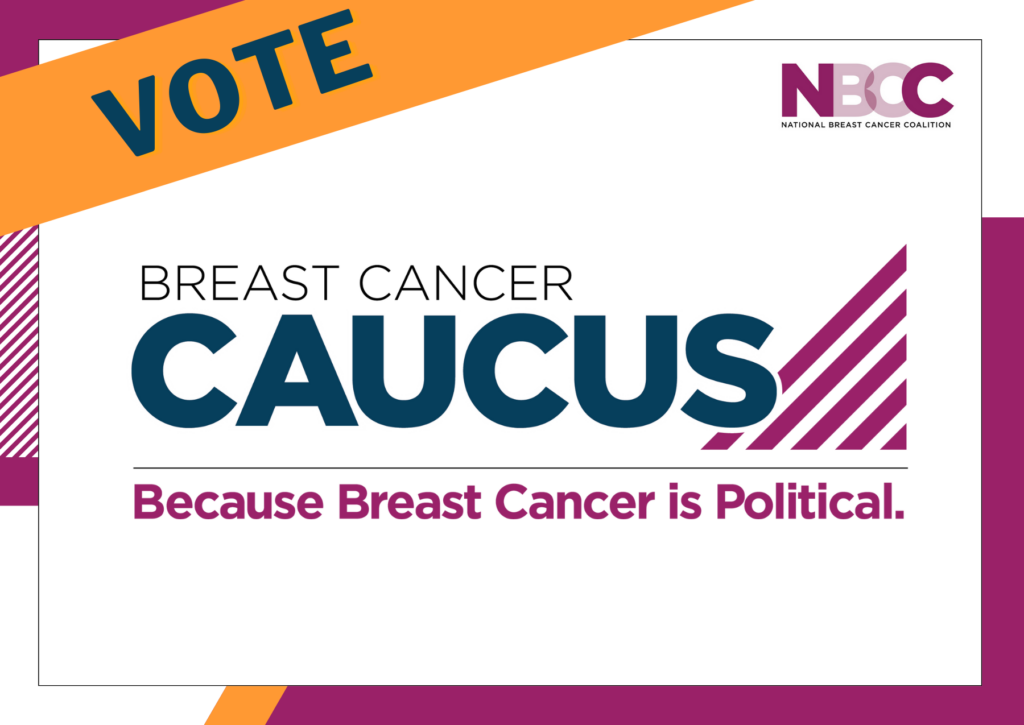 Meet your Member on the Campaign Trail
The Congressional campaign season has kicked into high gear now that Labor Day has passed. Every member of the House and one-third of the Senate are running for re-election in November. This creates opportunities for NBCC advocates to meet their members of Congress on the trail to remind them of NBCC's public policy priorities. The best way to learn about where your member of Congress will be campaigning is to follow them on Twitter or Facebook. If you plan to attend an event, let NBCC staff know at policy@stopbreastcancer.org and we can provide you with resources.
Make Your Voice Heard in Just a Few Clicks
We need your voice on Capitol Hill. You can show your support for the Metastatic Breast Cancer Access to Care Act (S.1312/H.R. 3183) by sending personalized messages to your Members of Congress. Visit the NBCC Action Center and urge your Members to cosponsor this lifesaving legislation with just a few clicks.
Become a Member
NBCC increases federal funding for breast cancer research, monitors how research funds are spent, expands access to quality health care, and enables trained advocates to influence all decisions affecting breast cancer. Join NBCC and thousands of others today by ensuring breast cancer remains a priority for Congressional and state policymakers. Become a member today.