Call to Action Online – September 2, 2022
September 2, 2022
---
NBCC President Selected to Receive the 2022 AACR Outstanding Achievement Award
On September 21, NBCC President Fran Visco will be awarded the 2022 American Association for Cancer Research (AACR) Outstanding Achievement Award in Public Service, Cancer Research, and Advocacy during the AACR 115th Anniversary Event in Washington, DC.
FDA Approval of Enhertu® in HER2 Low Advanced or Metastatic Breast Cancer
On August 5, 2022, the FDA approved T-DXd (Enhertu),[i] an antibody-drug conjugate (ADC) called trastuzumab deruxtecan for use in patients with advanced/metastatic hormone positive (HR+) or triple-negative breast cancer (TNBC) whose tumors express low levels of the HER2 receptor (1+ or 2+) but who are not technically HER2+. This approval is intended specifically for patients who have received at least one prior line of chemotherapy in the metastatic setting or developed disease recurrence during or within six months of completing adjuvant chemotherapy. We reported on the clinical trial of this drug in June 2022. 
NBCC has concerns about this approval. Neither the drug label[i] nor the FDA approval notice specifically restricts the use of this drug in HR+ patients to those who are resistant to endocrine therapy, (a requirement of the clinical trial). Endocrine therapy is much less toxic, and there are multiple options and lines of therapy available for HR+ patients. This is of particular concern because the T-DXd, while improving overall survival in heavily pretreated advanced-stage disease, also carries a significant risk of toxicity, including interstitial lung disease/pneumonitis which can be lethal.
More research is needed to determine in whom and when in a patient's course of treatment, T-DXd should be given, and educated advocates have a role to play in helping to shape the research agenda for this intervention.
---
[i] FDA Approval Notice for Enhertu: https://www.fda.gov/news-events/press-announcements/fda-approves-first-targeted-therapy-her2-low-breast-cancer
[i] Enhertu Drug Label: https://daiichisankyo.us/prescribing-information-portlet/getPIContent?productName=Enhertu&inline=true
Dr. Keith Knutson Speaks About the Artemis Project®
Artemis Project researcher Dr. Keith Knutson, spoke with Fox News Sunday about working with NBCC to develop a preventive breast cancer vaccine. Watch highlights of the interview here.
Thanks for Joining the 2022 Project LEAD® Institute!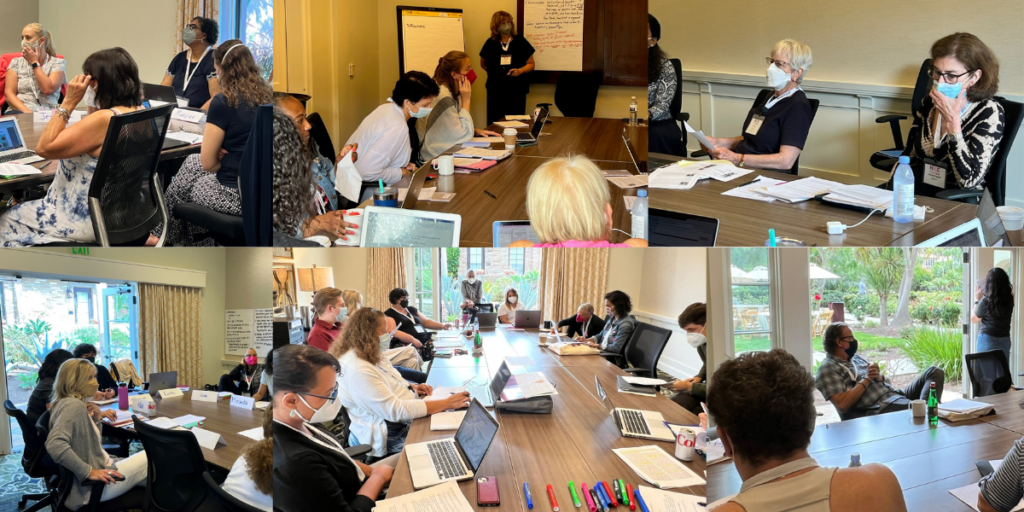 Last month in La Jolla, CA, more than 60 advocates gathered at NBCC's premier science training program, the Project LEAD Institute. This program brings together passionate and dedicated advocates for a deep dive into the science of breast cancer and provides them with the education and training they need to understand complex medical information, the nuances of research methodology, and the unique part that advocates can play in shaping research agendas. Equipped with these skills, Project LEAD graduates leave the Institute as some of the most respected and effective advocates in the field. Read more here.
The diverse class of 2022 included participants from 20 different states, the District of Columbia, and New Zealand. They worked through challenging homework assignments, asked important questions, and completed demanding coursework on topics such as genetics, epidemiology, immunology, and study design, taught by expert faculty from across the country.
This new class of Project LEAD graduates will be able to play a critical role in programs such as the Department of Defense Breast Cancer Research Program, NBCC's Artemis Project, clinical trials, and local research programs around the country and the world. Their training has given them the tools they need to translate complex science and medical information within their communities and ensure that advocates have a credible voice anywhere decisions about breast cancer are being made.
Thank you to all the advocates who attended, and to the faculty and mentors who guided them through the program. We look forward to the work we'll do together in the fight to end breast cancer!
Save the Date: 2023 Project LEAD Institute
Mark your calendars! Next year's Project LEAD Institute will be held in La Jolla, CA from July 30 – August 4, 2023. Applications will open on October 1st and acceptances will be made on a rolling basis. More details about Project LEAD are available on our website. Stay tuned for more information! We hope to see you there.
Save the Date: 2022 Women With Balls!
On October 17th, the National Breast Cancer Coalition Fund (NBCC) will host Women with Balls NYC!
Invite friends and family to bowl and fundraise to support NBCC.
Register to join a team, start your own, or sponsor a lane!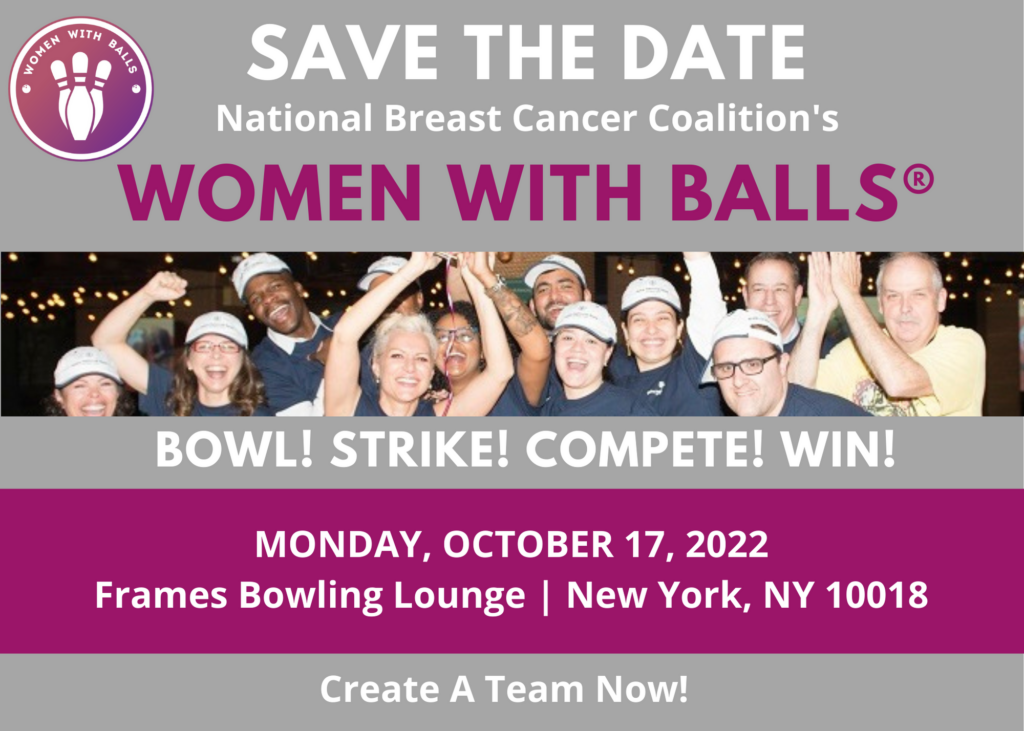 Save the Date: NBCC's 2022 Les Girls Cabaret
Join us for an evening of song and celebration to benefit The National Breast Cancer Coalition Fund. Les Girls delivers a fantastic evening of laughter and song unlike any other. This signature fundraiser supports NBCC's education and training programs in breast cancer science, research, and advocacy that are critical to ending breast cancer and saving lives. Join us and help us end breast cancer.
To purchase tickets, sponsorships, or make an outright donation online click here!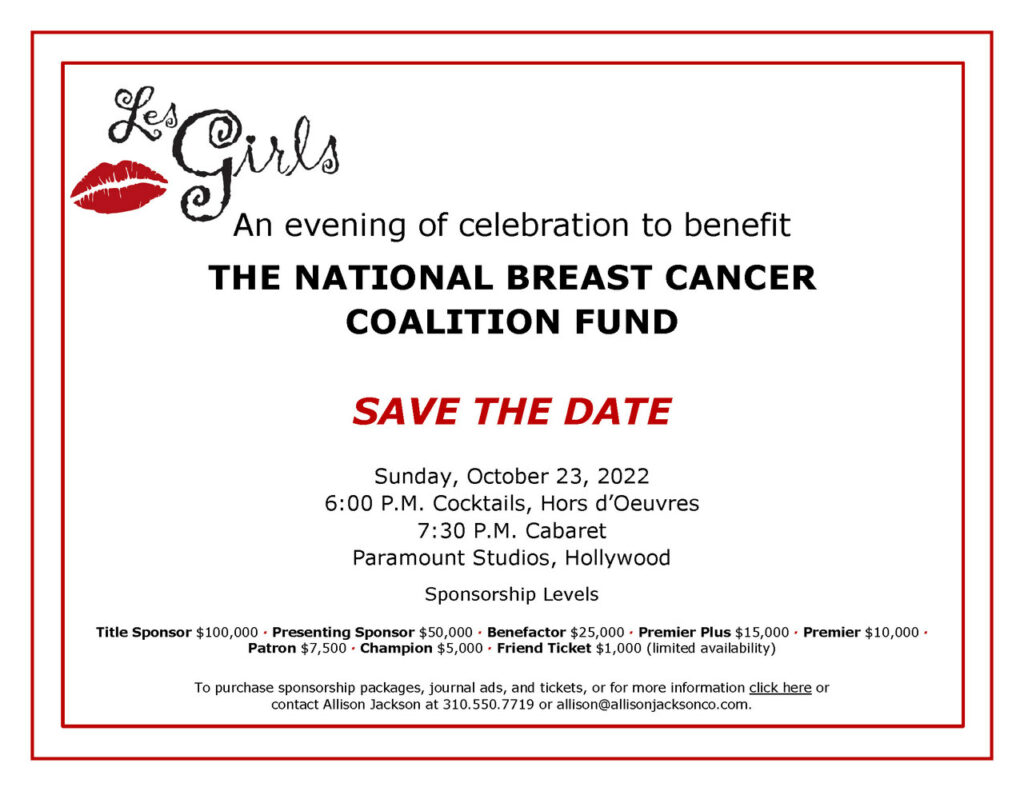 Save the Date: 2023 Advocate Leadership Summit
Mark your calendars for May 6-8, 2023! NBCC will once again hold our Advocate Leadership Summit in Washington, DC, at the Park Hyatt Hotel. Our annual Lobby Day will follow on May 9.
Planning has just begun for the 2023 Summit, and we continue to build a program that will expand the strengths of the tireless and talented NBCC advocates who share our mission to end breast cancer for everyone.
Stay tuned for more information!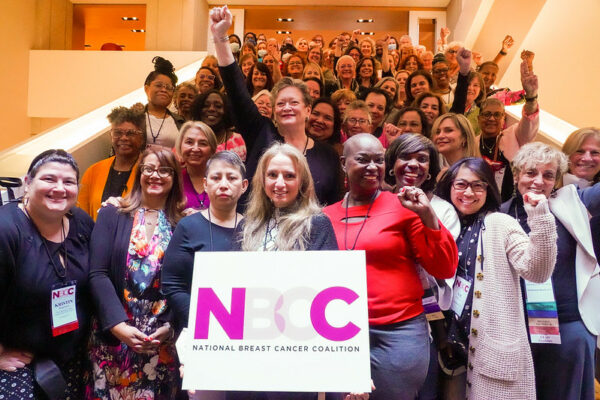 Donate Today
The National Breast Cancer Coalition's mission is to end breast cancer. Every dollar raised is immediately put to work advancing scientific research, collaborative workshops and symposia, advocacy training, and public policy work in Washington, DC, and in state capitals across the country in support of our mission.
Every minute counts in our efforts to achieve the goal of ending breast cancer. Every dollar equates to more lives saved.
Your gift is more than a contribution. It is an investment that will enable us to end breast cancer, once and for all.