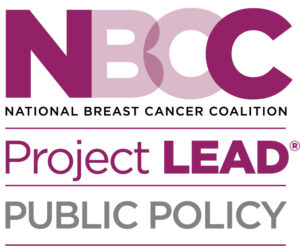 Public Policy LEAD is a three-day course designed to help breast cancer advocates deepen their understanding of the complex world of public policy. The course covers the major theoretical frameworks of policy analysis and the unique challenges of federal health policymaking. Participants will critique current breast cancer policies and engage in policy-making exercises to strengthen their advocacy skills and build their confidence.
Event Date: October 14-16, 2021
Location: Hotel George, Washington, DC
Registrants must be members of NBCC who are:
Currently, board members, field leadership, or invited by board or field leadership to attend.
Dedicated to supporting NBCC's mission to end breast cancer for everyone
**Due to the ongoing COVID-19 pandemic, NBCC requires that all attendees of in-person programming must be fully vaccinated as defined by CDC guidelines.**
Register here
Need-based travel scholarships of up to $300 are available. You must apply for scholarships via registration. Tuition is free, and most meals are included (see agenda for details.)
Faculty

 
Sara Collina (Facilitator) 
Sara Collina, J.D. (she/hers) teaches courses related to sex and gender public policy in the Women's and Gender Studies Program at Georgetown University, where she recently received The Dorothy Brown Award, a university-wide award for Outstanding Teaching Achievement (May 2020). Students nominate and vote on the slate of nominees to select the award winner.
Sara is the founder and director of Blueberry Hill Strategies (BHS), whose mission is to help gender justice and health care advocacy organizations thrive. She has been engaged in health care advocacy for more than twenty years and served as Research and Quality Care Director at the National Breast Cancer Coalition, where she spearheaded Project LEAD, a nationally recognized science education course for breast cancer survivors.
Judith Feder 
Judy is a nationally recognized public policy leader and professor of public policy at the McCourt School of Public Policy at Georgetown University. She has worked in many aspects of health policy, including the Affordable Care Act. Read more about her work here.
Charles Herrick, PhD
Jeff Levi, PhD
Jeff is a professor of Health Management & Policy at the Milken Institute School of Public Health at George Washington University. His expertise is in public health, and he chairs the Advisory Group on Prevention, Health Promotion, and Integrative and Public Health, which President Barack Obama appointed him to. Read more about his work here.