Call to Action Online – August 31, 2021
August 31, 2021
---
Apply for the Project LEAD Institute Today!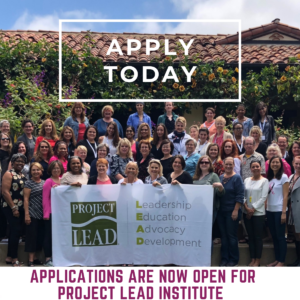 We are pleased to announce that NBCC is now accepting applications for the 2022 Project LEAD® Institute. The Project LEAD Institute is NBCC's premier science-based training program for breast cancer advocates. This six-day intensive course is designed to train advocates in the fundamentals of breast cancer science, research methods, and advocacy to provide a foundation of scientific knowledge that will empower them as activists. Taught by renowned research faculty, this course is a unique opportunity for those interested in research advocacy.
In 2022, NBCC will host two summer sessions of the Project LEAD® Institute in La Jolla, CA:
Session 1: July 24 – 29, 2022
Session 2: July 31 – August 5, 2022
For more information about the Project LEAD Institute, as well as details on how to apply, please visit our website here. The final application deadline is April 22, 2022.
Save the Date for Les Girls – Sunday, October 24, 2021 

Please join us for Les Girls on Sunday, October 24, at Paramount Studios in Los Angeles, CA. The annual cabaret is a witty and fun evening of song and dance to benefit NBCC and our mission to end breast cancer. This year we will honor Alec Call and Bryan Johns, co-founders of iS Clinical and longtime NBCC supporters for their leadership and Sherry Goldman, Nurse Practitioner, for her amazing grassroots advocacy work. For additional information and sponsorship opportunities click here.
Tell Us Your NBCC Advocacy Story
We are part of NBCC for a reason, and that reason is different for each of you. You may be a survivor or the family member of someone who has breast cancer or has lost their life to breast cancer. Or, another reason entirely. We need your stories. Why are you an NBCC advocate? We want to share your advocacy story with others so they, too, can become a catalyst in our fight to end breast cancer. Let them know it is not only possible to change the world, but that each one of us can help make that happen.
Support Project LEAD and Double Your Impact
The National Breast Cancer Coalition's Project LEAD course empowers dedicated breast cancer advocates with the knowledge and confidence to contribute to advocate-driven and advocate-focused breast cancer research at both the local and national levels. And we do it at no charge to attendees.
Today with more than 2,500 graduates, Project LEAD prepares advocates to participate in research advocacy. Graduates have and continue to play an enormous role in promoting best practices in breast cancer research, designing and shaping clinical trials, analyzing research findings from a consumer perspective, and engaging in local and national forums where breast cancer decisions are made.
Please help to ensure that new advocates continue to receive training that gives them the critical appraisal skills to identify what is worth fighting for in breast cancer, and the tools to create meaningful change. Donate online to support Project LEAD at www.stopbreastcancer.org/supportlead.
Thanks to the generous support of the Vance Wall Foundation, all donations received by mail or online by September 30 will be matched up to $50,000.