Call to Action Online – April 15, 2022
April 15, 2022
---
NBCC Tells Senate Drug Price Negotiation is Critical to Access to Care
NBCC's top priority is to ensure guaranteed access to quality healthcare for all. The issue of the cost of healthcare must be addressed to achieve that goal. On March 16, the Senate Finance Committee held a hearing to discuss prescription drug price negotiations in Medicare and NBCC submitted a Statement for the Record. NBCC told Congress they must help put an end to drug prices that create financial toxicity for patients, adversely disrupt the health care system, and have little relation between value and human life. Read the full statement here.
Study Ties Medicaid Expansion to Decrease in Health Disparities
A study recently published in JAMA Oncology revealed that Medicaid expansion was associated with decreased racial and ethnic disparities in mortality among patients diagnosed with de novo stage IV breast cancer. This demonstrates the importance of policies to increase equitable access to health care.
This study reinforces NBCC's experience with the CDC Treatment Act; legislation originated by NBCC that guaranteed access to treatment for low-income women diagnosed with breast and cervical cancer. Access to care is key to ending breast cancer and NBCC's policy priority describes a framework for achieving  guaranteed access to quality health care for all.
Take Action in the Action Center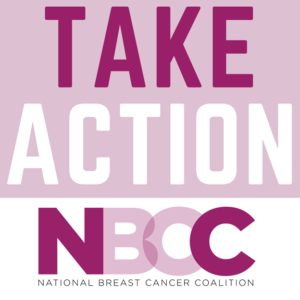 We need your voice on Capitol Hill. You can show your support for the Metastatic Breast Cancer Access to Care Act (S.1312/H.R. 3183) by sending personalized messages to your Members of Congress. Visit the NBCC Action Center and urge your Members to cosponsor this lifesaving legislation with just a few clicks.
Upcoming Townhall Meetings Happening Near You
Attention Washington advocates: representatives in your states will be holding upcoming town hall meetings. Townhall meetings are a great way for  your voice to be heard by your Members in the district. Whether virtual or in-person, townhalls offer an additional platform to get NBCC's public policy priorities in front of legislators. The upcoming town hall meetings are listed below:
Washington
On Thursday, April 27, 2022, at 6:00 pm PDT, Rep. Cathy McMorris Rodgers (R-05) will hold a telephone town hall meeting. Get more information here.
Please let us know if you participate and what response you receive.
Register for the 2022 NBCC Advocate Leadership Summit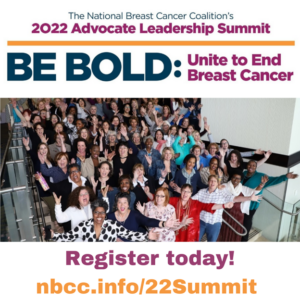 Registration and fundraising are open for NBCC's 2022 Advocate Leadership Summit.
When: April 30 – May 2, 2022
Lobby Day on May 3
Where: Park Hyatt Hotel, Washington, DC
NBCC's Annual Advocate Leadership Summit provides unparalleled training and education for advocates who want to gain the knowledge and confidence necessary to challenge science and medicine and make a difference in our mission to end breast cancer. These training sessions will give you the tools you need to take a leadership role in breast cancer advocacy. Register today
Don't forget to book your hotel room before April 15 to get NBCC's special rate!
Following these training sessions, advocates can lobby on behalf of NBCC's legislative and public policy priorities. Lobby day allows advocates to make an impact on Capitol Hill.
We can't wait to see you in person! Register today and stay informed through our website.
Note: NBCC requires that all attendees of in-person programming must provide proof of being fully vaccinated and boosted (up to date vaccination per CDC definition). Attendees must also test negative for COVID (home-based tests are acceptable, antigen or PCR) no more than 48 hours before the start of the event. As of now, masks will be required at the meeting.
Join Us
NBCC increases federal funding for breast cancer research, monitors how research funds are spent, expands access to quality health care, and ensures that trained advocates are able to influence all decisions affecting breast cancer. Join NBCC and thousands of others today by ensuring breast cancer remains a priority for Congressional and state policymakers. Join our efforts today.