Call to Action Online – January 5, 2023
January 5, 2023
---

NBCC educates and informs advocates about research that is relevant to our mission. As part of that work, we publish Science Spotlight which provides in-depth analyses of recently published breast cancer research, the results of pivotal breast cancer clinical trials, and other newsworthy breast cancer data. Announcements about new issues of Science Spotlight are sent through NBCC's biweekly Call To Action newsletters and other email communications. Past issues of NBCC's Science Spotlight are available here.
Science Spotlight: 2022 San Antonio Breast Cancer Symposium (Highlights – Part 1)
Self-described as "the largest and most prestigious scientific gathering on breast cancer research", the San Antonio Breast Cancer Symposium (SABCS) convened for its annual meeting in early December to discuss the results of ongoing breast cancer clinical trials and other related research. Notably, a handful of speakers highlighted NBCC-aligned perspectives, including addressing the unintended consequences of over-screening, the importance of including patient advocates in breast cancer research and focusing on overall survival instead of progression-free survival, and addressing disparities in breast cancer and access to healthcare. Over the coming weeks, we will be highlighting our perspective on key clinical trials and controversies, and what they might mean for breast cancer patients. overall survival results of DESTINY-Breast03, a randomized controlled trial that compares the efficacy and safety of trastuzumab deruxtecan (T-DXd; n=261 pts) versus trastuzumab emtansine (T-DM1; n=263 pts) in patients with metastatic HER2-positive breast cancer previously treated with trastuzumab and a taxane. We also discuss the topic of crossover, what it is, and when it should and shouldn't be used in cancer treatment trials. Read more here.
2022 SABCS Project LEAD Advanced Topic Session Summary
NBCC's education and training programs include high level sessions for Project LEAD graduates. NBCC hosted a Project LEAD Advanced Topic Session on "The Future of HER2 Low Breast Cancer" in conjunction with the Alamo Breast Cancer Foundation during the 2022 San Antonio Breast Cancer Symposium (SABCS).  Dr. Nicholas McAndrew, a hematologist oncologist at the UCLA David Geffen School of Medicine, and NBCC Advocate and Board of Trustees member, Beth Emery, JD, presented followed by a lengthy Q&A session.
Dr. McAndrew began with a general refresher about HER2 – what it is, what it does, why it's important, how it's classified in breast cancer, and how it can be targeted in breast cancer treatment. In detailing the natural history of HER2+ breast cancer, we can appreciate how significantly the introduction of antibodies targeting HER2 (Herceptin/trastuzumab) has improved the outcome for people with HER2+ breast cancer.
Dr. McAndrew   explained  antibody-drug conjugates (ADCs), the most recent agents in the long evolution of HER2-targeting cancer treatments. ADCs, such as trastuzumab emtansine (T-DM1 [Kadcyla]) and trastuzumab deruxtecan (T-DXd [Enhertu]), bind a potent chemotherapeutic agent to trastuzumab to target the delivery of chemotherapy to breast cancer cells that express HER2 on their surface. Dr. McAndrew highlighted some of the differences between T-DM1 and T-DXd, including the concept of the "bystander effect" of T-DXd which is thought to be important for the efficacy of this drug in treating HER2-low breast cancer. Critically important in this discussion, Dr. McAndrew highlighted issues related to accurately classifying HER2 status. Citing the work of Schettini et al., Dr. McAndrew described the known variability that exists among breast cancer-specific pathologists in HER2 scoring by immunohistochemistry. Historically, this variability has been important in distinguishing patients who are truly HER2+ from those who are not, mainly because HER2-targeted agents have been, until recently, limited to those who are truly HER2+. However, with the recent FDA-approval of T-DXd in metastatic HER2-low breast cancer (and studies seeking to move this drug into early-stage breast cancer), the issues around accurately classifying HER2 status have shifted to distinguishing HER2-low from truly HER2-negative tumors, where even more variability exists among breast pathologists. This is especially important because of the known toxicity associated with T-DX, including interstitial lung disease/pneumonitis which can sometimes be fatal.
NBCC  provides continuing education for advocates through informational sessions and access to NBCC's impressive coalition of experts. Visit the following links for information about NBCC's upcoming events that further our mission: the Advocate Leadership Summit, Project LEAD Institute, and upcoming NBCC webinars.
Apply to the 2023 Project LEAD Institute!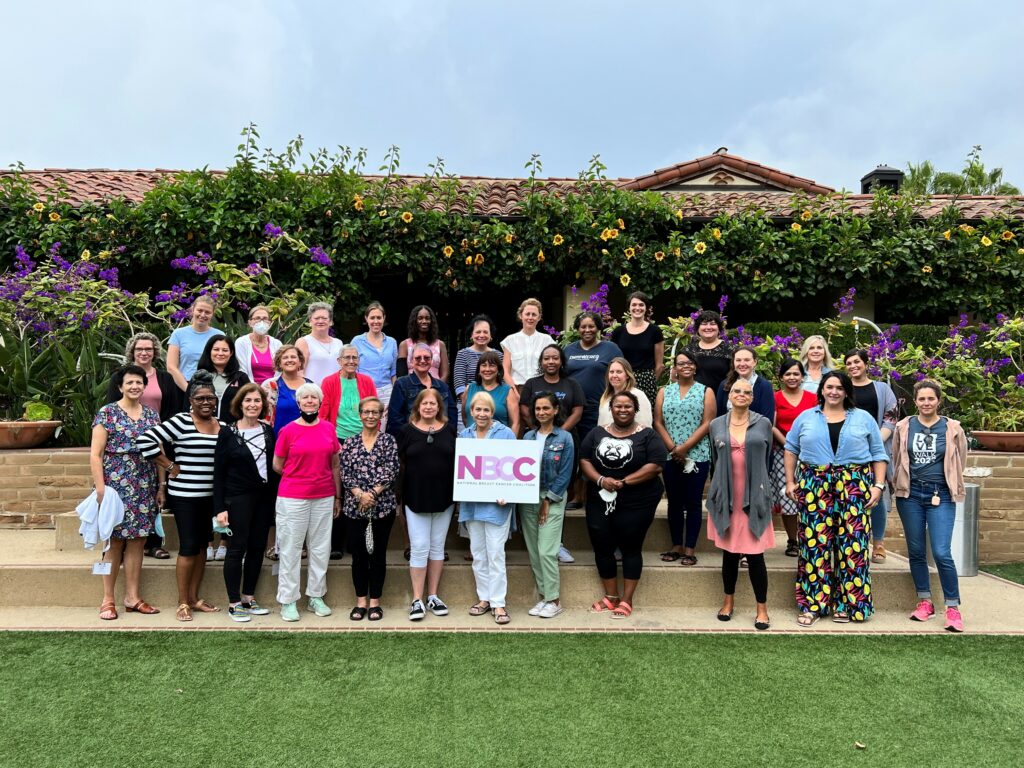 Applications for the 2023 Project LEAD Institute are now open. NBCC's premier science training program will be held in La Jolla, CA from July 30 – August 4, 2023. This six-day intensive course provides advocates a foundation in breast cancer science, as well as an introduction to clinical trial design, epidemiology, and immunology. Attendees will also learn how this scientific knowledge can be put to work in helping NBCC achieve its mission to end breast cancer.
Applicants will be accepted beginning January 2023 through April 21, 2023, on a monthly rolling basis. Priority will be given to those who have attended NBCC Summits. To learn more about Project LEAD Institute and how to apply, click here.
Register Today for the 2023 Advocate Leadership Summit

Registration is open for NBCC's annual Advocate Leadership Summit, set for May 6-8, 2023, in Washington, DC! This year's Summit will offer discussion sessions with top researchers and advocates, as well as skill-building, message training, and strategic planning workshops that inform attendees about critical issues and policies. NBCC will host our annual Lobby Day on May 9.
To find out more about the 2023 Advocate Leadership Summit, visit our website. There, you will find information on how to register, reserve your hotel room, and how to fundraise to attend the Summit. We hope to see you there!
Upcoming NBCC Webinars
NBCC is pleased to offer a variety of live webinars for current members on critical topics including updates on current breast cancer research, clinical trials, issues of disparities in the breast cancer space, NBCC's public policy work, and many more. These webinars are led by leading scientists, researchers, and advocates in the breast cancer field. Upcoming January topics include:
January 11, 2023 – Cancer Drugs: History and Use of the Magnitude of Clinical Benefit Scale (MCBS)
January 18, 2023 – Identifying Study Design Bias and its Impact on MCBS Scores of Cancer Drug Trials
January 19, 2023 – Controlling the Control Arm in Oncology Trials
January 25, 2023 – Mid-Term Election Recap: What Does the New Congress Mean for Health Policy?
Check out the list of upcoming webinars and register to attend, here.
Spread the Word: Share our NBCC PSA 
Watch NBCC's new PSA and help us spread the word about our important work. Send it on to all you know and share it on your social media outlets. When posting the PSA please include #StopBreastCancer and tag @NBCCStopBC on Twitter. We thank you for your continued partnership—together, we will end breast cancer.
Donate Today
The National Breast Cancer Coalition's mission is to end breast cancer. Every dollar raised is immediately put to work by furthering scientific research, providing collaborative workshops and symposia, and advancing advocacy training and public policy work in Washington, DC, and in state capitals across the country.
Every minute counts in our efforts to achieve our mission of ending breast cancer. Every dollar equates to more lives saved. Your gift is more than a contribution. It is an investment that will enable us to end breast cancer once and for all.