Preliminary Program for the 2023 Advocate Leadership Summit Now Available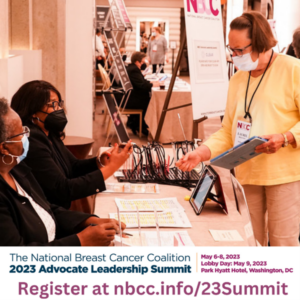 Registration is open for NBCC's annual Advocate Leadership Summit, set for May 6-8, 2023, in Washington, DC! This year's Summit will offer discussion sessions with top researchers and advocates, as well as skill-building, message training, and strategic planning workshops that inform attendees about critical issues and policies. NBCC will host our annual Lobby Day on May 9.
This year, the Summit will include presentations on:
– Ancestry, Gene Expression, and Disparities in Breast Cancer
– The History of the FDA and the Birth of Accelerated Approval
– Issues in the Clinical Trials Enterprise
– Health Care Costs and Value in Cancer Treatment
– And much more!
Confirmed speakers include Dr. Melissa Davis of Weill Cornell Medicine, Dr. Lewis Grossman of American University, Dr. Michael Press of the Keck School of Medicine USC, and Dr. Heather Parsons of the Dana Farber Cancer Institute. Stay tuned for more announcements about exciting sessions and speakers!
You can see the preliminary agenda here.
To find out more about the 2023 Advocate Leadership Summit, visit our website. You will find information on how to register, reserve your hotel room, and fundraise to attend the Summit. We hope to see you there!